GMM: A Resounding Success!
After a long hiatus due to Covid-19, the General Membership Meeting of the American Branch of the Richard III Society was held on October 28-30 at the Hyatt Regency Dulles Airport hotel and business center. Thirty-five members and their partners traveled from Arizona, California, Colorado, Delaware, Illinois, Oklahoma, Ohio, Connecticut, New York, Pennsylvania, Maryland, and Virgina. An additional twenty members attended by Zoom. This was the first time the American Branch did a "hybrid" conference, and it allowed representatives of the UK Richard III Society CLG to participate from the other side of the Atlantic.
Members began to arrive on Friday, and were so happy to see each other again. The last in-person GMM was more than four years ago in Detroit, so there was much to catch up on while browsing the numerous delightful Ricardian items on the silent auction, used book sale, and raffle tables, at which over $750 would be raised during the weekend.
Saturday's session got off to a smashing start following a delicious breakfast buffet with speaker Carol Ann Lloyd, whose talk, entitled, "A Network of Power and Politics: The Family of Richard III," captivated the audience with a concise yet sweeping account of the tangled histories of Edward III's children. Bobbie Franks followed up with a presentation on the Missing Princes Project in America, and amazed the audience by showing how many medieval English documents were located in American collections, as well as the challenges that existed in deciphering them.
Following lunch, Professor Kelly DeVries of Loyola University-Maryland gave a talk on the use of gunpowder weapons before and during the Wars of the Roses, on the Continent and in England. It was fascinating to learn that this new technology was used more widely in battle than previously thought, and prompted poets like Geoffrey Chaucer and Shakespeare to use them as literary devices.
The business meeting followed, and members had the opportunity to review and discuss the American Branch's current position and future goals, approve the 2023-24 budget, approve the proposed new Bylaws, and elect the incoming Board of Directors, the following of whom will serve until the 2024 GMM:
Chair of the Board: Susan Troxell
Vice Chair: (Vacant)
Treasurer: Deborah Kaback
Membership Chair: Wayne Ingalls
Secretary: Sally Keil
Directors at Large: Carole Bell, Mary Miller, and Joan Szechtman
Immediate Past Chair: Dr Compton Reeves
UK Chair Matt Lewis and the Branches and Groups Liaison Officer Jane Trump were able to contribute verbally to the business meeting and take questions. Matt Lewis explained the current outlook for the UK Richard III Society CLG, and how their future decisions might impact overseas branches. Jane Trump helpfully explained her role as BGLO in acting as an intermediary between the UK's Board of Directors and the Society's branches and groups.
Saturday night saw the medieval-themed dinner banquet, with many members wearing historical garb and uniting in joy to celebrate King Richard's good name and the 60th Anniversary of the American Branch. David Stifel began by reading "King Richard's Prayer", and our chair Susan Troxell offered a toast to the longevity of our branch. She announced the following winners of the Dickon Awards for exceptional volunteer service in the past 2 years:
Pauline Calkin, Current Fiction Librarian
Liz Bateman, Chair of the Tidewater VA Chapter
Congratulations to Pauline and Liz for receiving these well-deserved honors!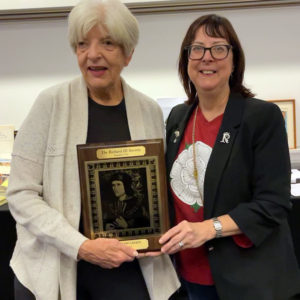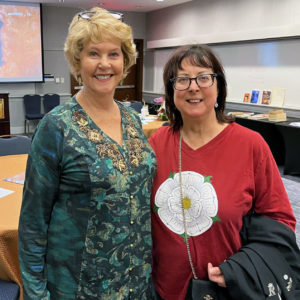 Susan also announced that the Board had voted unanimously to bestow a Lifetime Honorary Membership to the American Branch on the following member:
Dr Compton Reeves, Lifetime Honorary Member (Former Chair and Current Research Officer)
Dr Reeves has been a dedicated patron since he first joined in 1968, writing many articles for the Branch's and UK Society's publications, giving talks at our GMMs, using his academic connections to procure excellent speakers, and serving on our Executive Committee. We are deeply grateful for his many years of service.
Following dinner, we were treated to a concert by the early music ensemble Hesperus Trio Nova, who performed music from the 14th, 15th, and 16th centuries, with voice, lute, and viola di gamba. Beautifully expressed in an intimate setting, it felt like we had been transported back in time to the chamber of a great medieval lord or lady.
Sunday morning's program started off with Dr Compton Reeves' excellent talk on how older people in the medieval age worked and enjoyed their lives. He shattered many myths, including that people did not live past the age of 30 and found life cruel and harsh if they did live after 30. There was a panoply of ways older people would find themselves to be of use and to engage in leisurely recreation.
Wrapping up the GMM was a live broadcast from the UK of Matt Lewis's interview with Philippa Langley about "The Lost King" movie – to be released in America on March 23, 2023. Philippa answered many questions about the movie, how it got started, where it was filmed, and why she was thrilled with Sally Hawkins' portrayal even though she sports short brunette hair rather than Philippa's signature golden locks. She shared many insights on her relationship with the University of Leicester and addressed some of the ongoing controversy about how certain officials are depicted. We will have to wait until its March 23 release in America to enjoy this film.
The success of the 2022 GMM was due primarily to teamwork and a stellar group of people from both the branch, especially Liz Bateman and Susan Troxell, and the venue. We had a wonderful event coordinator, Jaime Issa, and a terrific audio-visual technician, Gabe Lungu, who saw that our hybrid "experiment" went off smoothly, professionally, and without a hitch.
Perhaps the GMM's success is best summed up by all the feedback we received from members, both new and old. Bobbie Franks commented: "What truly amazed me was the Ricardian fellowship and the enthusiasm. Although I didn't meet everyone personally, the folks I did meet were friendly and welcoming." Maria Torres observed that "the speakers were absolutely enthralling — I could have listened to Compton's thoughts on old age in our period all day long". Carol Frisbee told us this was her first GMM, "and I loved it! So many people of like minds, now friends. This GMM was totally a wonderful experience for me, and I hope to be able to participate more often, health permitting." Tim and Bonnie Mulligan wrote that "the time passed so quickly, we did not get to meet everyone who attended, but we greatly enjoyed talking with everyone we did get to know. The food was great (we were stuffed on Saturday), the books for sale represented some really outstanding titles, my wife [Bonnie] was fortunate with her raffle tickets, and she was delighted to win the auction for the beautiful print of Richard at Middleham Castle!"
We also had someone come to our GMM who was not a member but was very eager and curious to learn more about Richard III and our society:
Being in attendance at the GMM this past weekend was a dream come true and another priority on my bucket list. Well run, professional with terrific speakers, the GMM made such a positive impression on a newbie Ricardian like me. Also, having the opportunity to meet like-minded proponents of the King's true legacy opened my eyes intellectually, spiritually and emotionally. Each and every member was kind enough to provide me, literally and figuratively, a seat at the table. The comradery was contagious. I would highly recommend to anyone interested in finding the truth and assisting in fulfilling King Richard III's true legacy, to join the Richard III Society of America. Thanks again for a wonderful time. Cordially, Sandra L.
Hopefully, we will see many members at our next GMM in 2024. We are thrilled to announce that it will be held in Santa Fe, NM and will be hosted by Dawn and Pete Shafer from the Rocky Mountain Chapter. We are in very good hands with Dawn and Pete in charge.
See you in Santa Fe in 2024!!