Volunteering
The American Branch is entirely staffed and managed by volunteers. Some of the things our volunteers do include: Serving as Board members, hosting events, website work, social media management, writing articles, editing publications, organizing our archives, serving as librarians, and more. Got a skill? Experience? Think you can help with any of these things, or do you have a new idea idea that you'd like to see happen?
We'd love to hear from you! To get started volunteering with us,
HELP WANTED
We're happy to have volunteers of all skills, interests, and experience levels, but here are a few roles we need the most:
Editor: Principal duties of the editor are to produce March and September print and digital issues of the Ricardian Register and June and December digital issues of the Ricardian Chronicle. Other duties are to prepare inserts such as bylaws for distribution when the need arises.
Zoom host: Someone with the time and ability to host informal Zoom meetups of our members. Must have reliable, high-quality internet service.
Vice Chair: Preside at meetings in the absence of the Chair, prepare meeting agendas, etc. Full details in our Bylaws.
Chapters Coordinator: Support our regional chapters, including help with set-up, keep up to date lists of chapters and their activities, publicize chapter activities.
GMM Planning Committee
The Dickon Awards
Beginning in 1986, the American Branch Board has given Dickon Awards to recognize outstanding volunteers whose work has made a special impact on the Branch. Dickon Awards are announced and presented at our General membership Meetings. Below are our past awardees.
Thank you for your service!
2022
Pauline Calkin
Elizabeth Bateman
2020
Cheryl Greer
2018
Susan Troxell
2016
Sally Keil
2014
Joan Szechtman
2013
Pam Butler
William & Amber McVey
2004
Tamara Mazzei
2003
Wayne Ingalls
2001
Jeanne Faubell
Yvonne Saddler
2000
Dianne Batch
1999
Bonnie Battaglia
1998
Myrna Smith
1997
Judie Gail
Compton Reeves
1996
Peggy Allen
Sharon Michalove
1995
Helen Maurer
1994
Alan O. Dixler
1993
Laura Blanchard
Joe Ann Ricca
1992
Carol Bessette
1991
Maryloo Schallek
1990
Roxane Murph
1989
Joyce Hollins (Hiller)
1988
Linda McLatchie
1987
Carol Rike
1986
Dr. Morris McGee
The Plantagenet Angel Award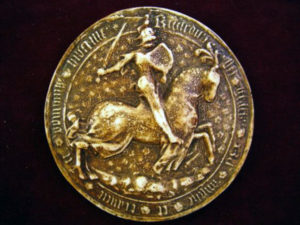 The Plantagenet Angel Award was created to recognize the support of our most generous donors. In 2022, W. Bowman "Bo" Cutter of New York City, was named as our first Plantagenet Angel Award recipient.