Passing of the American Branch Founder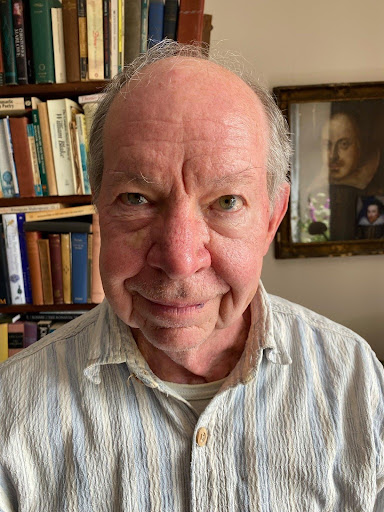 We were saddened to learn of the death of Arthur Kincaid, PhD, Oxford University (Christ Church College), founder of the American Branch of the Richard III Society. Arthur died on July 24th, 2022 following a long struggle with lung cancer. Arthur was a lifelong Ricardian whose sympathetic interest in King Richard III never ceased, along with his constant reading and research on the subject.
Arthur became a naturalized British citizen in 1974, and (in Ricardian circles) he is perhaps best known for a new edition of the classic work by Sir George Buck [Buc]: The History of King Richard the Third (1619). Edited with an Introduction and Notes by Arthur Noel Kincaid (1979). Arthur's edition was based on an early manuscript, not the shorter and corrupted version published by Buck's great-nephew in 1646. His one great concern during his last months was to see the publication of his revised edition of Sir George Buc's work, a thoroughly updated work which reflects new insights extending right up to the present day. With the collaboration with Annette Carson on this project, Arthur was overjoyed at the success of plans to have it published by the Society of Antiquaries with the support of the Richard III Society, CLG. This is a fitting memorial to his decades of work in the Ricardian cause, and we look forward to the fulfillment of this goal. (Editor's Note: Kincaid's edition of "The History…" is available in our Members Library for American Branch members to borrow.)
Arthur's interest in Richard III started while he was in middle school. He went to the Westtown School, a private Quaker K-12 school outside Philadelphia, where one of his middle school teachers taught Shakespeare's Richard III in an "enlightened way" by challenging its depiction of the historical king and suggesting that it was a smear propaganda job to support the Tudor dynasty. This left a profound impact on Arthur who started to read everything he could about King Richard III, which led him to reading Josephine Tey's A Daughter of Time and becoming a life-long Ricardian.
At the UK Society's 2019 AGM in Edinburgh, Arthur spoke about his experience as a young Oxford scholar working with the original MSS at the British Library, a project that provided him with the nucleus of his first published edition of that manuscript. After Oxford, Arthur remained in the UK, married his wife, Deirdre, and entered the teaching profession. His teaching posts were mostly in England but he did spend some time in Estonia. Arthur's scholarly interests were English literature – particularly Shakespeare and the poetry of William Wordsworth – and the origins of Quakerism in England. He wrote an academic article challenging the historicity of Thomas More's History of Richard III concluding that it was more of an exercise in rhetoric than a credible account of the king's life and reign. Arthur was also a keen actor and singer who enjoyed depicting on stage celebrated people such as John Wilkes Booth, for which he starred in a one-man show. He also played the role of Richard III created by Shakespeare, for which he admitted feeling some guilt to the real king but he refused to wear a hunchback and instead crafted a character with uneven shoulders which he felt was more historically accurate. While living in the UK, Arthur befriended Isolde Wigram, the founder of the reconstituted Richard III Society in the UK, and developed a life-long friendship with her. He was the first to introduce her to Lovell Hall, the Oxfordshire residence of perhaps King Richard's closest friend, Sir Francis Lovell.
The Richard III Society, American Branch extends our heartfelt condolences to Arthur's family and friends. He will be greatly missed.