Windows for the King
New Ricardian windows planned for St Mary's, Barnard Castle, Co Durham, UK
Donations are being collected for etched glass windows in honor of Richard III at one of his favored churches.
I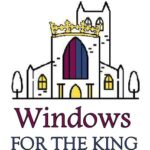 t has been long recognized that as Lord of Barnard Castle, Richard III took an interest in St Mary's church, contributing greatly to its improvement as well as being memorialized in stonework in the chancel arch and his boar badge outside the south transept east window.
Following research on Richard's intended Collegiate foundation in the town, evidence suggests that St Mary's was the intended College: with major funding from Richard, it was enlarged, heightened, re-roofed and developed accordingly, with nearby buildings set aside for the College's twelve priests, and a two-story vestry for its dean. [Ricardian Bulletin, June 2022] The new chancel arch (c. 1480) boasted the sculpted heads of Edward IV and Richard as Duke, since the College's purpose was principally to pray for them and their families.
The College's proposed dedication was to Christ, the Blessed Virgin, St. Margaret of Scotland, and St.Ninian of Whithorn. Each of Richard's three collegiate foundations included Ninian as a principal saint. St Margaret had connections both to Richard and to Barnard Castle: the castle chapel was dedicated to her since, as Queen Margaret of Scotland, she was the ancestor of Devorguilla, wife of John Baliol I. Margaret was also the great-grandmother of Geoffrey of Anjou, founder of the Plantagenet line, so a direct ancestor of Richard himself.
As a commemoration of Richard's College, the Windows for the King project will install a series of etched glass panels over the church's interior porch doorway, featuring boars and the saints of his College's dedication: the central panel will feature Mary holding a young Christ, with Saints Ninian and Margaret flanking her. Two further panels will depict saints associated with medieval chantries in the town – St Helen of the Holy Cross and St Catherine of Alexandria. The final panels will show Ricardian boars, akin to those on a sculpture of St Anthony in the church, stonework which possibly graced the collegiate priests' residential buildings until the Victorian period.
This new artwork commemorating Richard in the north will be created by renowned glass artist,Rachel Phillips, for the 550th anniversary of Richard's lordship of Barnard Castle in 2024. Rachel has worked in glass for over 20 years, also tutoring at the Swansea School of Glass; her designs feature in a variety of public buildings, including Conwy Castle and Beaumaris Castle.
This is a once-in-a-lifetime tribute to Richard in the north of England, in a town with more Ricardian stone boars than anywhere in England. 'Windows for the King' will crown the celebrations of Richard's 550th anniversary as Lord of Barnard Castle in 2024. As there is approx. £40,000 to raise, please help to commemorate Richard's unique contribution to St Mary's: all donations will be much appreciated.
"Richard loved this building and gave generously to improve it. Rachel Phillips has considerable experience in designing works of art for heritage buildings and we're excited to be working with one of the UK's foremost glass artists in creating windows that celebrate Richard's connections to and love of the north. We hope 'Windows for the King' will reflect everything that Richard hoped for in his planned Collegiate church here." -Kim Harding, Chair of the Northern Dales Richard III Group.
The Windows for the King project team is formed from members of the Northern Dales Richard III Group and from St Mary's church. Donations for 'Windows for the King' can be given:
Online @ https://www.stmarysbarnardcastle.org.uk/windows-for-the-king/ where a Donations button will lead you to a Giving page, which also includes the option of gift-aiding your donation (UK donors).
By cheque payable to: St Mary's Barnard Castle PCC, c/o The Vicarage, Parson's Lonnen, Barnard Castle, Co Durham. DL12 8ST.
To avoid confusion,
please make it clear in a separate covering note that the donation is for 'Windows for the King'.