Latest publication from the Richard III Society!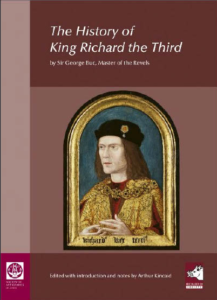 Many members have heard rumblings…and here it is in print: a new publication of Arthur Kincaid's magisterial edition of The History of King Richard the Third by Sir George Buc (aka Buck). Sir George's masterpiece (1619) was written to vindicate King Richard's actions and career, and even dared to suggest that the sons of Edward IV never met their end at his hands.
Master of the Revels at the Court of King James I, Buc adhered to the stern principles of the antiquary movement, accepting no tales and fables but demanding evidentiary proof. Alas for the great man's scholarly reputation, Sir George was hardly cold in his grave than his manuscript was stolen, and a worthless travesty was published in 1646 (the one on Google Books) – passed off as the work of one 'George Buc Esq' – which has been dismissed and ridiculed for 400 years.
Buc's carefully researched book was rescued from obscurity by the American-born Ricardian scholar Arthur Kincaid, with the first authentic edition appearing in 1979. Arthur's assiduous work has now brought it right up to 2021, including a reassessment of Elizabeth of York's letter (illustrated within). Ricardians will love his closing salvo, 'Folklore and History'.
Direct orders in North America can be placed with Casemate here. Members of the Richard III Society can access a discount, please contact our Membership Chair for the coupon code.
From a Book Review of Kincaid's Sir George Buc's The History of King Richard the Third (1979):
". . . no reader can come away from this work without believing that Buck is more credible than tradition has allowed, and this credibility is due to Kincaid's job in editing Buck's History. Typically such editorial labor is reserved for those whom history has judged favorably: Kincaid's thoroughgoing work rivals, for example, the Yale edition of Buck's historical opponent, Sir Thomas More. Yet Kincaid convincingly shows that Buck's account of Richard III is a far better one than More's – that Buck, in fact, though certainly not More's rival in eloquence, is a historian of no mean competence, even by modern standards."
Cox, John D. Book Review: The History of King Richard the Third. Modern Philology, November 1981, pp. 200-203.