AARP offers free tickets to The Lost King preview screenings!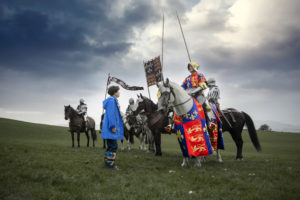 In an effort to promote The Lost King movie to mature audiences, the country's leading organization of retired people, AARP, is offering free tickets to special preview screenings in select geographical areas. You need to act fast as they are quickly filling up.
Find a free screening near you here!
Tickets are free but registration is required and seating is first-come, first-served. Please note that you must sign in to your AARP.org account or create an account to register. AARP membership is not required to create an account.
ABOUT MOVIES FOR GROWNUPS: AARP's Movies for Grownups advocates for the 50-plus audience by fighting ageism in the entertainment industry and encouraging films that resonate with older viewers. Our screening program offers attendees the opportunity to connect and create a community of film fans both in-person and online.
THE LOST KING – In this inspiring true story, amateur historian Philippa Langley believes she has made the archeological find of the century: the lost burial site of King Richard III. She takes on Britain's most eminent historians, forcing them to rethink the legacy of one of the most controversial rulers in English history.

Starring: Sally Hawkins, Steve Coogan, Harry Lloyd, Mark Addy

Rating: PG-13 (Brief Suggestive References|Some Strong Language)
Get your free tickets to The Lost King movie today.