Manga Mania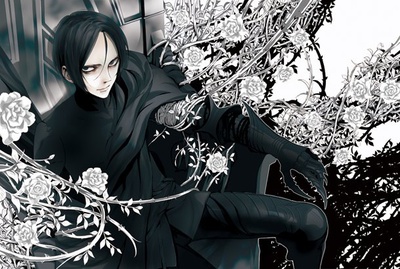 Just when you think that the story of King Richard III, whether Shakespeare's version or factually-based, has been depicted in every form of media, something new comes along. In recent years, Richard has made his way into the popular pages of manga.
"What is manga?" the older among us may ask. A brief definition is, "Manga is an umbrella term for a wide variety of comic books and graphic novels originally produced and published in Japan. Unlike American comic books, which are usually printed in full color, Japanese manga are almost always published in black and white."
As with most comics, the art is highly stylized, but manga art has a very distinct visual style. Characters are frequently drawn with an androgynous look. In content, manga runs the gamut from titles for children, to romance, adventure, fantasy, and erotica. Social issues such as gender-questioning and LGBTQ themes are frequently explored in manga books.
Richard III Manga Titles
Requiem of the Rose King
"Prince Richard III is fighting a battle within himself. Despised by his mother, adored by his father (the Duke of York, a claimant to the throne), and alienated from most others, he grapples with frightful spirits haunting him, unsteady and unintentional alliances with his enemies, and his own passion for a throne."
Loosely based on Shakespeare, with elements of history and soap opera in the mix, Requiem is a very popular manga title. The first issue was released in 2014 with the final issue published in 2021. In this story, Richard's "deformity" is not a hunchback, but the fact that he was born intersex, with male and female anatomy.
It has since spawned a spin-off manga comic, audio adaptations, and an anime tv series. (Trailer above) Requiem for the Rose King is available for purchase on Amazon in paperback and Kindle format, and it can be borrowed from larger US public libraries.
A New Shojo Series Adds LGBTQ+ Representation to Classic Shakespeare – CBR.com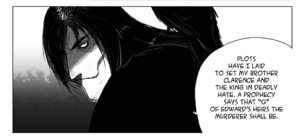 Manga Shakespeare: Richard III
The "Manga Shakespeare" series by UK publisher Self Made Hero includes manga adaptations of fourteen of Shakespeare's most popular plays. Their "Richard III," first published in 2007, is illustrated by London artist Patrick Warren. Warren is the winner of a UK Rising Stars of Manga competition.
Manga Shakespeare: Richard III is a straightforward retelling of the play, simplified to make it more accessible, but retaining the original language. The publisher makes learning resource packs available to educators.
Manga Shakespeare: Richard III is also available to purchase on Amazon, Comixology, or used on AbeBooks.
We hope to have full reviews of both of these titles in upcoming issues of the Ricardian Register.
More about manga– NYPL