He painted the most famous portrait of Sir Thomas More.
Opening on February 11 and running through May 15, 2022 at the Morgan Library in New York City, this is the first major American exhibit covering the art of Hans Holbein the Younger (1497/8-1543). Titled "Holbein: Capturing Character", it travels to the Morgan Library from the Getty Museum in Los Angeles. Born in Augsburg, trained in Basel, and living a total of 13 years in England, Holbein is considered one of the greatest portraitists of the 16th century.
According to the website of the Morgan Library, this exhibit "span[s] Holbein's entire career, it starts with his early years in Basel, where Holbein was active in the book trade and created iconic portraits of the great humanist scholar Erasmus of Rotterdam (1466–1536)."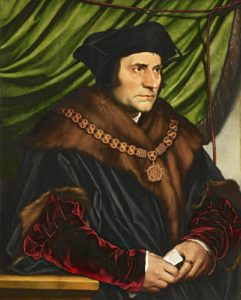 "Holbein stayed in England in 1526–1528 and moved there permanently in 1532, quickly becoming the most sought-after artist among the nobles, courtiers, and foreign merchants of the Hanseatic League. In addition to showcasing Holbein's renowned drawn and painted likenesses of these sitters, the exhibition highlights the artist's activities as a designer of prints, printed books, personal devices (emblems accompanied by mottos), and jewels. This varied presentation reveals the artist's wide-ranging contributions to the practice of personal definition in the Renaissance. Works by Holbein's famed contemporaries, such as Jan Gossaert (ca. 1478–1532) and Quentin Metsys (1466–1530), and a display of intricate period jewelry and book bindings offer further insights into new cultural interests in the representation of individual identity, and highlight the visual splendor of the art and culture of the time."

Ricardians might be interested to know that Rowland Lockey (1565-1616) "in the style of Hans Holbein the Younger" painted More's family, and some believe that portrait contains numerous visual clues as to the fates of the "Princes in the Tower" – the sons of Edward IV who mysteriously disappeared from sight in 1483. There is a theory that the Lockey portrait was actually painted by Holbein – and perhaps whomever painted it knew something that Thomas More didn't?
Speaking of which, and for those intrigued about the Princes in the Tower, check out Matt Lewis's book "Survival of the Princes in the Tower". Matt is currently the Chair of the Richard III Society, CLG, in the United Kingdom.